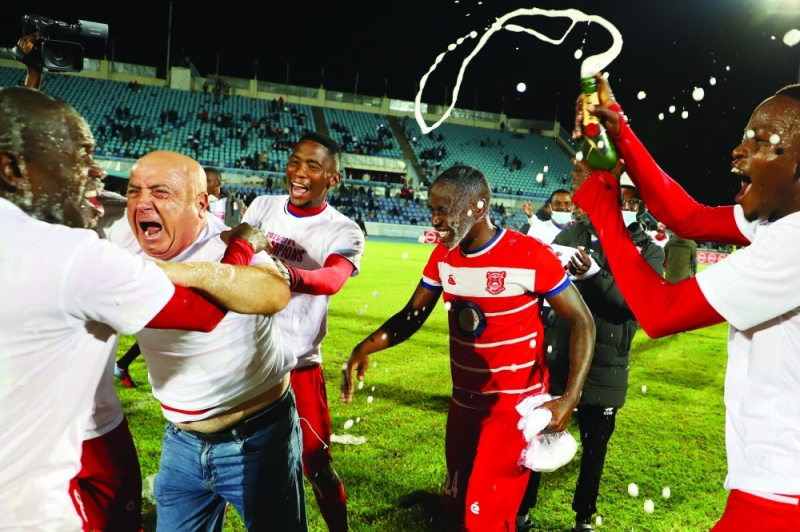 Friday, May 20, 2022 | 10 Views |
The taste of victory: GU were crowned champions on Tuesday PIC: KENNEDY RAMOKONE
Player boycotts, internal squabbles, and financial issues define Gaborone United's (GU) 13-year-long wait to land a league championship. Mmegi Sport Correspondent KABELO BORANABI traces the Reds' often-treacherous journey to glory
It was a moment to savour not only for GU but for the football fraternity as the team beat Mochudi Centre Chiefs 1-0 to win the league title in 2009. The match, at the beginning of winter at the Molepolole Sports Complex, was a thrilling experience to decide the league fate as the title contenders were involved in the same match on the last day of the league season. The Reds' victory on the day promised that the Reds' glory days are back. The team had last won the league title in 1990.
From dethroning Magosi, Moyagoleele were third in 2014–2015 being the
team's highest finish since their 2009 league triumph. The Reds reached rock bottom in the 2018–2019 football season. They had been docked three points for failing to pay Ghanaian striker, Bismarck Appiah his dues. The club had announced that they were P1 million in the red. GU owed among others, former coaches, Dragojlo Stanojlovic (P150,000) and Rodolfo Zapata (P200,000), while Appiah was owed over P390,000. The financial woes were fuelled by boardroom squabbles. Then chair, Rapula Okaile was in a long battle with an opposing faction that challenged the legitimacy of his chairmanship. The fracas had pushed out investor, Nikolas Zakhem, leaving the Reds living on shallow pockets. The Reds, however, went on to finish sixth in the campaign. There were glimpses of hope with GU winning the FA Cup and two Top 8 titles in between.
Already have an active account? Log in here.
Or Sign up and get unlimited access to premium articles.