| Titanic
Home |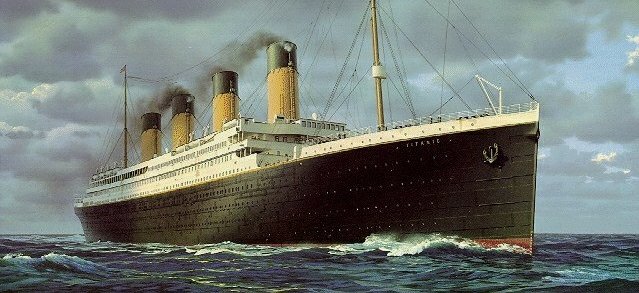 A painting
of the Royal
Mail Steamer Titanic
Significant Dates:
In 1907, J. Bruce Ismay
(President of the White Star Line) and Lord Pirrie (Chairman of
Harland & Wolff shipbuilders) dreamed up the idea to build
luxurious ocean liners as a way for the White Star Line to compete in
the transatlantic passenger market. A total of three ships were
planned: The Olympic, Titanic and Gigantic. The
next year was spent doing extensive design work.

On July 30, 1908,
authorization was given to build the Titanic and her sister ship the
Olympic. In 1911, the order was placed for the third ship Gigantic.
When this ship was completed, it was ultimately named the Britannic.
Many believe that the name was changed because Gigantic
sounded too similar to Titanic.
The keel for the Titanic was
laid on March 31, 1909.
The Titanic was launched on
May 31, 1911 at 12:15 pm.
The Titanic left Belfast,
Ireland and headed for Southampton, England on April 2, 1912.
Titanic arrives in
Southhampton on April 3, 1912.
The Titanic left Southampton
on its maiden voyage on Wednesday, April 10, 1912 at 12:00 Noon.
The Titanic struck an
iceberg on Sunday, April 14, 1912 at 11:40 pm.
The Titanic sank on Monday,
April 15, 1912 at 2:20 am.
The wreck of the Titanic was
found on September 1, 1985.
Comparison of the Titanic to
the Voyager of the Seas:
| | |
| --- | --- |
| Titanic | Voyager of the Seas* |
| | |
| --- | --- |
| | |
| | |
| | |
| | |
| Cruising Speed: 22.5 knots | Cruising Speed: 23.7 knots |
| Passenger Capacity: 2,603 | Passenger Capacity: 3,114 |
| | |
| Total passengers & crew: 3,547 | Total Passengers & crew: 4,295 |
*Voyager
of the Seas
(Royal Caribbean) is one of the largest cruise ships in the world today.
Other Titanic specifications:
Draught: 34 feet.

Displacement: 66,000 tons of water.
The Titanic had 4 funnels
(smokestacks). Each was 62 feet tall and had a diameter of 22 feet.
The distance from keel to top
of funnels was 175 feet.
The rudder was 78 feet high,
weighed about 101 tons and was cast in 6 separate pieces.
Titanic's 3 anchors had a
combined weight of 31 tons.
More than 3 million rivets
were used to build the Titanic.
"Triple screw" – 3
propellers. The 2 outer propellers had a diameter of 23 feet and the
center propeller had a diameter of 17 feet.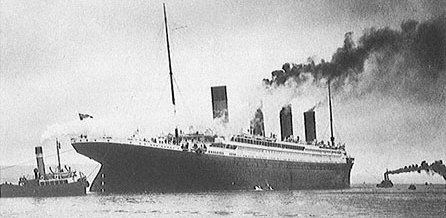 Engines: Two four-cylinder steam
reciprocating engines and one low pressure turbine engine. The
turbine, which drove the center propeller, utilized the exhaust steam
from the other engines. This design recycled the exhausted steam
instead of wastefully venting it up the funnels. The result: an
increase in efficiency.

The total horsepower of the
engines was 51,000.
29 boilers – 24 double ended
and 5 single ended.
159 furnaces.
16 watertight compartments.
15 transverse watertight bulkheads.
Equipped with 20 lifeboats
(total capacity 1,178).
Building:
Harland and Wolff, located in
Belfast, Ireland, built the Titanic.

It took approximately three
years to build.
14,000 workers were used to
construct it.
The Titanic cost $7.5
million to build (in 1912). Interestingly, the movie
"Titanic" (made in 1997) cost more than $200 million to produce!
Building the Titanic today
(1997) would cost $400 million.

The Titanic was:
The Largest ship in the world (in 1912).

The biggest movable man-made
object ever made (at that time).
One of the first ships to have
a swimming pool.
Publicized as the world's
largest, safest, most luxurious five-star floating hotel.
Titanic Decks: (listed
from top of ship to bottom)
Boat Deck

Promenade Deck ("A")
Bridge Deck ("B")

Forecastle Deck —
The foremost portion of Bridge Deck.
Poop Deck
— The aftmost portion of Bridge Deck.

Shelter Deck ("C")

Saloon Deck ("D")
Upper Deck ("E")
Middle Deck ("F")
Lower Deck ("G")
Orlop Deck
Deck Highlights
Boat Deck:
Bridge; radio room; officer's quarters; lifeboats; gymnasium. |View
Deck|
Promenade Deck:
1st class staterooms; 1st class reading and writing rooms; 1st class
lounge; 1st class smoking room; the Verandah Cafe and Palm Court. |View
Deck|
Bridge Deck:
1st class suites; two 1st class "millionaire" suites; 1st
class à la Carte restaurant; Café Parisien restaurant;
2nd class smoking room. |View Deck|
The 1st class passengers boarded
the Titanic through the impressive Grand Staircase. It was sixteen
feet wide, provided access to seven decks and was over 60 feet high.
The ceiling was a massive glass dome which contained a large chandelier.
At the bottom of the stairs was a
large statue. This statue has been salvaged from the Titanic wreck.
At the top of the stairs was an ornate clock. The Grand Staircase was
described as representing, "Honor and Glory crowning Time".
Shelter Deck:
1st class suites; 2nd class library; 3rd class social room; 3rd class
smoking room; some crew accommodations; cabins for the maids and
servants who accompanied many of the 1st class passengers; 1st class
barber shop; Doctor's office; Purser's office; hatches for loading
the ship. |View Deck|
Saloon Deck:
1st class dining room; 1st class reception room; 2nd class dining
room; 1st and 2nd class galleys (kitchens) and pantries; 1st, 2nd and
3rd class rooms; crew quarters; 1st and 2nd class bakery and butcher
shops; hospital. |View Deck|
Upper Deck:
1st, 2nd and 3rd class rooms; crew quarters; 2nd class barber shop. |View
Deck|
Middle Deck:
Swimming pool; Turkish bath; 2nd and 3rd class rooms; crew quarters;
3rd class dining room; 3rd class galley; 3rd class bakery and butcher
shop. |View Deck|
Lower Deck:
Squash racquet court; Post Office; food freezers and coolers; baggage
rooms; cargo hold; crew quarters; some 3rd class rooms. |View
Deck|
Orlop Deck:
Engine rooms; boiler rooms; coal bunkers; fresh water tanks; food
storage; wine cellar; cargo and refrigerated cargo hold; baggage
rooms. |View Deck|
Note: many of the areas on the
Titanic traversed multiple decks.
Officers of the Titanic:
 

Back row from Left to Right:Herbert McElroy, Charles
Lightoller, Herbert Pitman, Joseph Boxhall, Harold Lowe

Front row from Left to Right:
James Moody, Henry Wilde, Edward
Smith, William Murdoch
Captain – Edward
J Smith (did not survive)

Chief Officer – Henry
F Wilde (did not survive)
First Officer – William
M Murdoch (did not survive)
Second Officer – Charles
Herbert Lightoller(survived)
Third Officer – Herbert
John Pitman(survived)
Fourth Officer – Joseph
Groves Boxhall (survived)
Fith Officer – Harold
Godfrey Lowe(survived)
Sixth Officer – James
P Moody (did not survive)
Chief Purser
– Herbert McElroy (did not survive)
Others of Significance
Quartermaster- Robert
Hitchens (survived)

He was steering Titanic at
the time of the accident.

Lookout-
Frederick Fleet (survived)

He was the first to spot the
iceberg. Fleet was in the last half hour of his watch from the crows
nest when he saw a massive iceberg no more than 500 yards away. Fleet
phoned the bridge and shouted, "Iceberg right ahead!".
Fleet was saved in lifeboat #6. He worked at sea until 1936. In his
later years, Fleet sold newspapers and spent most nights alone
drinking beer. He died in 1965 after taking his own life.

Managing Director of Harland
& Wolff–Thomas
Andrews

Since Andrews helped design
Titanic, he undoubtedly knew the most about the Titanic and her
construction. He was on the Titanic to observe Titanic's performance
and note anything for future design improvements. He assessed the
iceberg damage and calculated that the Titanic would probably sink in
about 1.5 to 2 hours. Andrews went down with the ship.

Managing Director of White
Star Lines-J
Bruce Ismay(survived)

Although not part of the
crew, he may have
played a significant role in the Titanic disaster. It is believed
that Ismay may have influenced Captain Smith to ignore the ice
warnings and steam ahead at full speed. Many are convinced that if
Ismay had not been aboard, Captain Smith would have been more
cautious and taken the ice warnings more seriously.

Ismay left the Titanic on
collapsible boat C and has been extensively criticized for this. The
general feeling was that he should have gone down with the ship. He
stated that he only boarded the lifeboat because there were no other
passengers waiting to get on board. However, witnesses have reported
seeing Ismay push and shove others out of the way to get on that
lifeboat. The truth will never be known. Ismay resigned his position
in 1912 shortly after the Titanic incident, but remained an executive
with IMM (International Mercantile Marine Co — the owners of the
White Star Line) until 1916. He died from a stroke at age 74 in
October, 1937.

And the band played on…

An eight-man band led by
violinist Wallace Hartley, demonstrated extreme courage by
entertaining passengers as Titanic sank. Their music most likely
averted panic and made the passengers feel that things were not as
bad as they appeared. After all, how bad could things be if the band
was still playing? Some witnesses stated that the band played until
Titanic slipped beneath the waves. Although it has been argued that
the steep incline of the deck would have prevented the band from
playing until the bitter end, it is clear that they played until it
was no longer possible.

None of the eight musicians were
employed by the White Star Line. They all worked for Messers C.W. and
F.N. Black of Liverpool, England and were ticketed on Titanic as
second class passengers.
Brailey, Theodore – Pianist

Bricoux, Roger – Cellist
Clarke, J. Fred C. Bass – Violist
Hartley, Wallace Henry – Band leader
Hume, John (Jock) Law – First violinist
Krins, George – Violist
Taylor, Percy, C. – Cellist
Woodward, J. W. Cellist
All eight musicians lost their lives.

According to some survivors,
the band played "Nearer, My God, to Thee" as Titanic sank.
Others, including wireless operator Harold Bride, claim that the last
piece played by the band was a hymn called "Autumn". Other
possibilities include, "Songe d'Automne" and
"Londonderry Air". The debate continues.
"Nearer, My God, to
Thee" may be the most likely candidate as this song was one of
Wallace Hartley's favorites.
The actual tune played is
not really important. The important thing is that 8 brave men gave up
the chance to save themselves in order to pay musical tribute to the
doomed Titanic and those still aboard. Although their music died,
their memory never will.

Ownership
of Titanic:
The Titanic was part of the
White Star Line and was owned by the Oceanic Steam Navigation Company
located in England. All of its stock was owned by the the
International Navigation Company Ltd of England, which in turn, was
owned by the International Mercantile Marine Company (IMMCO) – an
American corporation. IMMCO owned the White Star Line.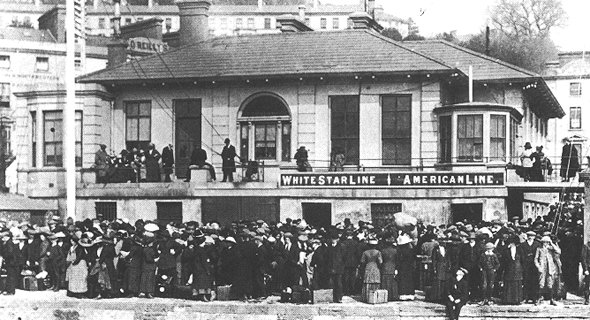 Draught – the
depth to which a vessel is immersed.
Beam –
the width of a ship at its widest part.
Bow –
the front end of a ship.
Stern –
the rear end of a ship.
Starboard –
the right side of a ship (as viewed while facing toward the front
of the ship).
Port –
the left side of a ship (as viewed while facing toward the front
of the ship).
Bridge
– the raised
platform from where a ship is steered.
Crow's nest – a
basket-like area half way up
the forward mast
which serves as a lookout.
Keel –
the chief structural member of a ship running lengthwise along the
center of its bottom.
Knot –the
traditional way to convey a ship's speed in hours. One nautical mile
per hour = One knot
Rudder – a
flat structure attached upright to a ship's stern so that it can be
turned causing the ship's bow to turn in the same direction.
Screw
– another
name for propeller.
Titanic had 3 propellers and is often referred to as a
"triple-screw" ship.
 
 
Conversions:
Miles per Hour = Knots
multiplied by 1.152

Kilometers per Hour =
Knots multiplied by 1.853

Celsius=(Fahrenheit-32)*0.555

Fahrenheit=(1.8*Celsius)+32

Copyright © 1997-2003. All rights reserved.