Acer rubrum 'PNI 0268'
Outstanding, reliable, bright orange to deep, reddish purple fall color – even in warmer climates. A tall form with a dense, rounded crown and large, medium green leaves in spring and summer. Foliage is held on the tree later into fall than with most cultivars. A superb choice as a high profile shade tree for larger landscapes. Deciduous.
USDA Zone ?
There are very few rules in gardening, but perhaps the most important one is to work within your zone. Choosing plants that grow and thrive in your particular climate is the very first step toward having a beautiful garden .
Learn More3-9
Your climate might be too cold for this plant:
 Change Water Needs
Keep soil consistently moist but not soggy.
| | |
| --- | --- |
| Botanical Pronunciation | AY-ser RU-brum |
| Average Size at Maturity | Moderate to fast growing; reaches 40 to 50 ft. tall, 30 to 40 ft. wide. |
| Bloom Time | Early Spring |
| Deciduous/ Evergreen | Deciduous |
| Flower Color | Red |
| Foliage Color | Green |
| Garden Style | Contemporary, Rustic |
| Growth Habit | Round |
| Growth Rate | Moderate |
| Landscape Use | Firescaping/Firewise, Specimen, Very Wet Areas, Woodland Garden, Wildlife Garden |
| Light Needs | Full sun |
| Soil Needs | Tree & Shrub Food |
| Special Feature | Extreme Cold Hardiness, Fall Color, North American Native Selection, Tolerates Poor Soils, Tolerates Wet Soils, Bird Friendly, Tolerates Urban Pollution |
| Water Needs | Moderate |
| Watering Needs | Keep soil consistently moist but not soggy. |
| Companion Plants | Spruce (Picea); Viburnum (Viburnum); Oak (Quercus); Maidenhair (Ginkgo); Beech (Fagus) |
Provide slightly acidic, well-drained soil. Best color in full sun, but tolerates light shade. Water deeply and regularly during first few growing seasons to establish an extensive root system. Once established, reduce frequency; prefers regular moisture but tolerates drier soils. Apply fertilizer before new growth begins in spring.
This Plant's Growing Zones: 3-9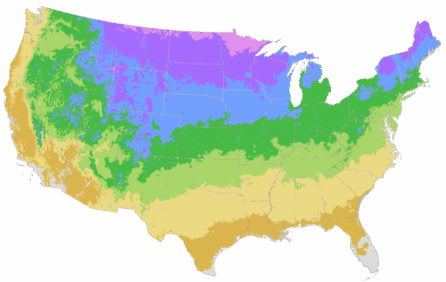 Your USDA Cold Hardiness Zone:
Your climate may be too cold for this plant