Gloria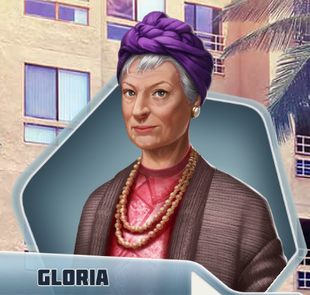 Alias
Gloria the Glittering
Titles
Actress (Formerly)
Series
Red Carpet Diaries
First Appearance
Book 1, Chapter 1
Gloria, a character in the Red Carpet Diaries series, is one of Your Character's neighbors in Book 1. She is also a former actress. She makes her first appearance in Book 1, Chapter 1.
Appearance
Gloria has green eyes, fair skin, and gray hair peeking out beneath a purple head wrap. She wears a brown cardigan over a rose blouse, large pearl earrings, and two beaded necklaces.
Personality
Gloria is described as calm, kind-hearted and wise. When she talks about her acting career, she tells you she made a lot of mistakes in the past and how it caused her friendships to be ruined. She has good faith in the MC being famous and guides and helps her in both wisdom and advice when needed. Because of her great acting skills, she was willing to help the MC to escape and make up for her mistakes with her fellow friends and actor colleagues by feigning that one of the present reporters "killed her beloved".
Chapters
Chapter 1: Hello, Hollywood!
Chapter 4: Heroes and Hustlers
Chapter 8: The Long Con
Chapter 9: What Stays In Vegas
Chapter 13: Rock Bottom
Chapter 16: The Big Premiere
Chapter 16: The Premiere
Chapter 17: The Wedding
Relationships
Your Character
Your Character is one of Gloria's neighbors in Book
1. Upon first meeting her, Gloria senses Your Character's star quality through her aura.
Seth Levine
Seth is one of Gloria's neighbors.
Laurel O'Hara
Laurel was her best friend and her co-star in several of her movies, including Four to Tango. They were like sisters until fame went over Gloria's head. Gloria canceled their next movie and Laurel retired from acting and went back to their hometown. Gloria was too proud to apologize, and when Laurel died in a traffic accident, it was too late.
Joseph "Joey" McCarthy
Gloria tells you in Book 2 that she used to date Joseph McCarthy for a while. She calls him a petty tyrant because he didn't allow her wearing red whenever they went out, even though she looked good in red.
Trivia
She was married several times.
She has invisible friends.
It is mentioned in Book 1, Chapter 16, that she is flirting with a young waiter.
As of Book 2, Chapter 1, she is no longer one of your neighbors due to Your Character moving into a new home.
She was featured in several movies including Four to Tango.